Anastasia Griva
Post-Doctoral Researcher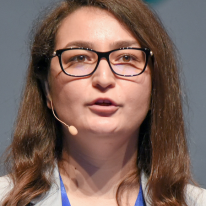 National University of Ireland Galway
Contact Details
Office: Room 345, Whitaker Institute, Cairnes Building, NUIG
Tel: +353 91492848
Anastasia is a Marie Skłodowska-Curie postdoctoral research fellow at Lero | The SFI Software Research Centre at NUI Galway, Ireland. She obtained her PhD at the ELTRUN Research Centre of the Athens University of Economics and Business (AUEB), in Greece. Her dissertation entitled "Data-driven Innovation in Shopper Marketing: A Business Analytics Approach for Visit Segmentation in the Retail Industry" is a result of applied research in industry-related business analytics problems.
She holds a BSc in Management Science and Technology with a specialization in Quantitative Methods in Economics and Management, and an MSc (with honors) in Information Systems, both from AUEB. She has long-term experience in working on international research (e.g. SERAMIS, U-turn, iTrack, Transforming Transport) and industrial projects in the retail and ISD sector.
She has worked as consultant at Intrasoft International SA, ICAP GROUP SA and ShopTing.be, and she has made efforts towards research commercialization via establishing two AI and Analytics start-ups. Moreover, she has worked as a mentor in startups for the incubation center of AUEB (Athens Center for Entrepreneurship and Innovation) and for the European Virtual Accelerator (EUXCEL), a Horizon 2020 and Startup Europe initiative.
Her research interests lie in the areas of business analytics, AI, internet of things and customer behavior. She has published in edited books, academic journals (e.g., Expert Systems with Applications, Information Systems Frontiers, IEEE Software), and proceedings of international conferences (e.g., ECIS, MCIS, EURO). She has served the community as Program Committee, Track Chair, Associate Editor and Reviewer in various academic conferences (e.g., ICIS, ECIS, MCIS, EURO, I3E, IFIP WG8.6). Currently she is Guest Editor for the journals Information Systems Frontiers, International Journal of Information Management and Journal of Decision Systems, Associate Editor for the International Journal of Business and Data Analytics, and Conference chair for the 20th IFIP Conference on e-Business, e-Services and e-Society, (I3E2021).