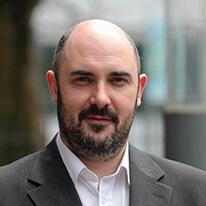 Contact Details
OFFICE: Top Floor, Cairnes Building
Ext : 2913
Kieran Conboy is a Professor in Business Information Systems in the School of Business & Economics and is a co-Principal Investigator in the Lero Irish Software research centre. He previously worked for Accenture Consulting and the University of New South Wales in Australia. He is also on the board of the Irish Research Council.
Kieran teaches information systems innovation, agile and lean project management, portfolio management, and contemporary models such as crowdsourcing and crowdfunding. He has advised and published widely in the areas of management and workplace innovation, and particularly in the area of agile and lean processes in software organisations. He has worked with organisations such as Microsoft, Atlassian, Cisco Systems, Suncorp, and Fidelity Investments, as well as many SMEs. Kieran has also advised international public sector organisations in the health and education sectors. He is the Principal Investigator of a Science Foundation Ireland project in the area, involving 11 research fellows and Ph.D researchers, and has received over €8m in research grants from industry, the European Commission, Enterprise Ireland and the Irish Research Council.
Kieran has published over 150 articles in leading international journals and conferences including Information Systems Research, the European Journal of Information Systems, Information Systems Journal, the Journal of the AIS, IEEE Software, the International Conference in Information Systems and the European Conference in Information Systems. He is an editor of the European Journal of Information Systems and has chaired international conferences in his field.
Kieran also advises on funding agency policy and practice and has advised the E.U. Commission as well as national funding bodies in Ireland, the U.S. and Australia. He is now leading an Irish Research Council funded project to adapt, implement and validate the use of crowdfunding and crowdsourcing techniques in the grant award policies and mechanisms of Science Foundation Ireland, Enterprise Ireland as well as the IRC.
Kieran was also a Fulbright award recipient in 2009 where he spent time at Carnegie Mellon University working with the Software Engineering Institute on the business value of IT systems.