Since it was founded in 2005, Lero has become one of the best-known, and most highly regarded, software research centres in the world.
Lero brings together leading software teams from universities and institutes of technology in a coordinated centre of research excellence with a strong industry focus. Lero comprises more than 300 researchers across 12 academic institutions.
Lero's Responsible Software Engineering agenda underpins our strategic research areas and ensures that software delivers values such as privacy, security, trust and inclusion; key topics for companies now and in the future .
Our research brings together multidisciplinary research teams to cover three overarching areas:
Systems (What we build) Connected systems and next generation architecture
Methods (How we build software) Processes, tools & platforms
Context (For the world we want ) Values, Governance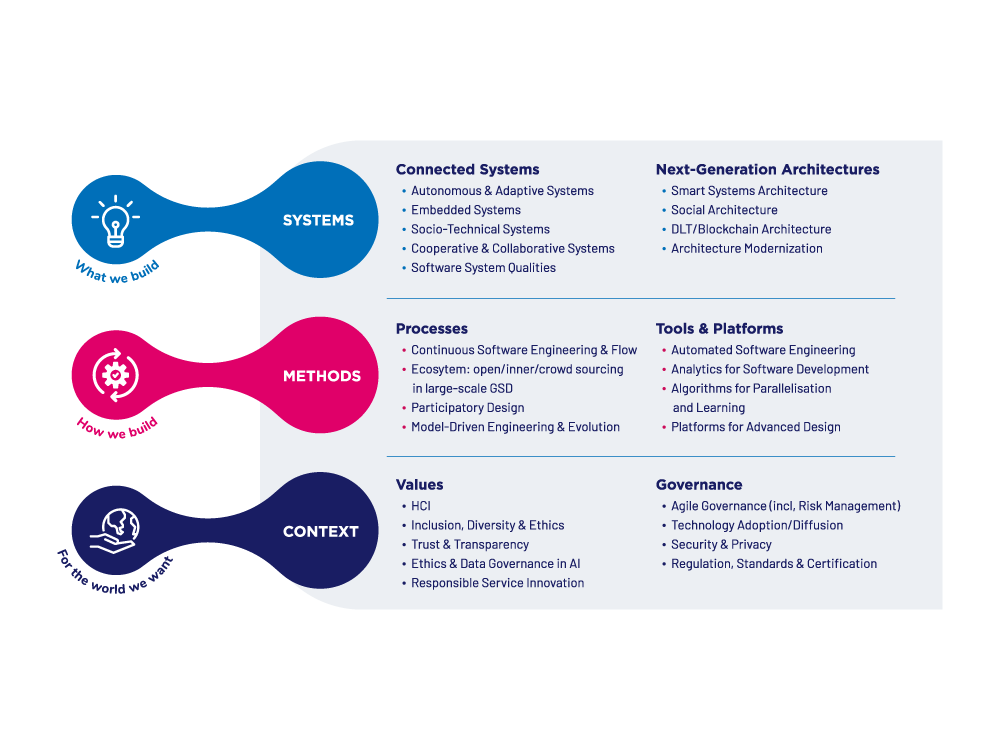 We work across multiple sectors with our industry partners who are leaders in a wide range of application domains from driverless cars to artificial intelligence and ICT, cybersecurity, fintech, govtech, smart communities, agtech and healthtech.
Working together
Collaboration is at the very core of what we do. Our industry partners are a vital part of the research centre and together we address exciting new opportunities in our partners' markets that deliver economic value and help future proof companies for the challenges that lie ahead in increasingly competitive environments.
Lero works with industry partners to identify and solve specific problems, working to create or expand the R&D footprint of companies both nationally and internationally.
We meet with new industry partners, discuss their research challenges and identify opportunities for collaboration. Once we have identified potential projects we bring together the relevant researchers define the project and agree how it will be funded. Lero's collaborative research projects are typically funded by a mix of industry and state funds, primarily SFI. 
We can also look to other research funding opportunities through Enterprise Ireland and Horizon Europe depending on the topic of the research and the industry partner.  Where the industry partner funds the research some of the costs may be reclaimed through R&D credits
How companies can benefit from collaboration with Lero
Access to world leading researchers. Lero brings together interdisciplinary teams from across multiple disciplines.
Technology & Knowledge Transfer

From licensing, to ongoing project discussions to industry workshops and talks: Lero regularly organises industry focussed workshops and talks from leading researchers on topics as diverse as agile techniques and developing software for regulated environments.

Access the best post graduate software talent available. The Lero Graduate School in Software Engineering (LGSSE) provides a pipe-line of industry ready PhD graduates.

Use of state-of-the-art equipment and technology
Industry-focused solutions delivering commercial value
Industry Partners
Small to Medium Enterprises
Testimonials
John Cormican, General Manager, Jaguar Land Rover Ireland
"Jaguar Land Rover have been working with Lero since the Shannon operation was established in May 2017. Lero have been instrumental, working alongside Jaguar Land Rover, in helping to define the direction of CAV Ireland. The relationships that Lero have nurtured both across industry and research has allowed CAV Ireland to become quickly established in Ireland. Their contribution to defining the policy and direction of CAV has been vital. We look forward to a long and fruitful relationship with Lero."
Autonomous Cranes - Liebherr and Lero