Dr Anders Mattsson - Lead Architect at Husqvarna Group
You are here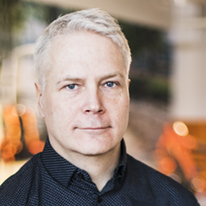 Anders Mattsson
Lead Architect at Husqvarna Group
Dr Anders Mattsson's research and industry experience focusses on software and systems architecture, building upon 30 years of experience in software and systems development spanning from small embedded devices to large mixed systems incorporating cloud, applications and physical devices. Dr Mattsson completed his PhD at Lero in 2012, and is now Lead Architect at Husqvarna Group in Sweden.
My area of research at Lero was software architecture in the context of model-driven development. Model-driven development is primarily about automation, working with architecture models and generating software from them. Architecture also focuses on rules that you set for software engineering on the deeper level. The problem then, was that there were not any good methods for automating them to ensure that you actually follow these rules, as they were typically expressed in natural language. That's what I focussed on: how to express these rules in a way that you could automatically enforce them on the design of the software.
I would definitely say that Lero was a very good environment to work in. There was a lot of research going on at Lero that touched on what I was doing, so it gave me good contacts: that was the most beneficial thing for me. I did a lot of work within different research projects at Lero also, so that provided an international environment. I would say the relationship between Lero and the researcher is mostly collaborative, but also supportive. I got a lot of support from Professor Brian Fitzgerald, and the people around him, and also from other researchers in the group. It was a great environment to discuss ideas and get feedback. As well as that, I would definitely say that it was great to have experienced researchers advising me on how to write journal articles in the correct manner, and also how to select journals and reviewers.
I had worked with software architecture prior to joining Lero, and that was one of the reasons I selected that topic specifically, as I felt the need to go deeper in that particular area. Towards the end of my research at Lero, I switched employers from Combitech to Husqvarna Group in Sweden. Back then, Husqvarna had a small team of software engineers, and now we are a team of a few hundred, so I was one of the very first that was employed in a new department to build up this software engineering expertise. I know that one parameter they considered when I joined Husqvarna was the fact that I actually had done some research in the area. So I would say that my experience at Lero helped me to get this role. Presently, my role is lead architect for Husqvarna Group's Internet of Things super-system, the system consisting of all IoT customer facing services, common services and connected products. My focus is on getting Husqvarna's IoT system into a more mature stage.
During my time doing research at Lero, one challenge I encountered was that I found it can take a very long time for a journal article to be published. From when you first write it up, to getting it approved and through the system, that can take a long time, sometimes more than a year. My advice to any researchers starting out in Lero would be to make a good plan for yourself to follow in relation to getting journals published, and try to establish that as early as possible. That way, there's a lot of lead time to be gained and you'll be thanking yourself in the long-term.
Software architecture is still very much at the core of software engineering, so it's highly relevant for what I do. I would say my topic is still unaddressed, and from an industrial perspective, I would say that there are still things to be done, and architecture could still be a lot more automated than it is today.